Profiles
From DDUtil
Version 1.8.6
Description
Profiles are intended to save the state of all the DDUtil controls at a point in time. This is useful if you are using multiple Amplifiers, Rotators or any peripheral device(s) connected through RS232, Parallel or any other connection method supported by DDUtil.
Say you have two antenna systems which consists of separate towers, rotators, SteppIR antennas, watt meters and Linear Amplifiers feeding each one. All these pieces of equipment are connected to DDUtil using RS232 ports. By selecting different ports for different configurations and saving these settings to a Profile they can be recalled when needed. This is especially helpful for remote and contest operators.
OR, you can make a backup of all your DDUtil settings in case the User.config file gets corrupted. Just call it BackUp.xml.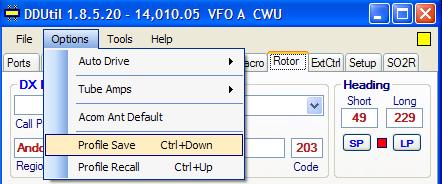 Saving Profiles
Open the Options menu and select Profile Save (Ctrl+Down arrow).
Select or enter a name to identify the profile.
Press the Open button or hit the [Enter] key to save the profile.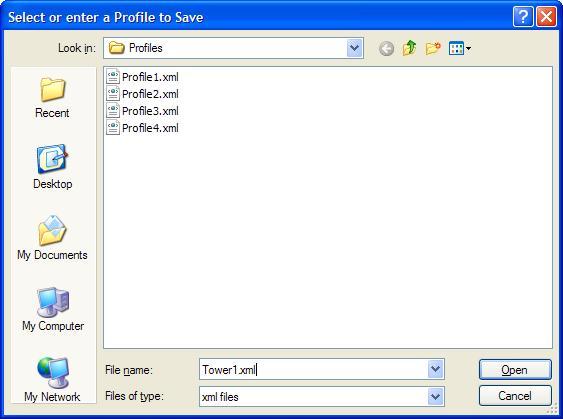 Recalling Profiles
Open the Options menu and select Profile Recall (Ctrl+Up arrow).
Select a profile name to recall.
Press the Open button or hit the [Enter] key to load the profile.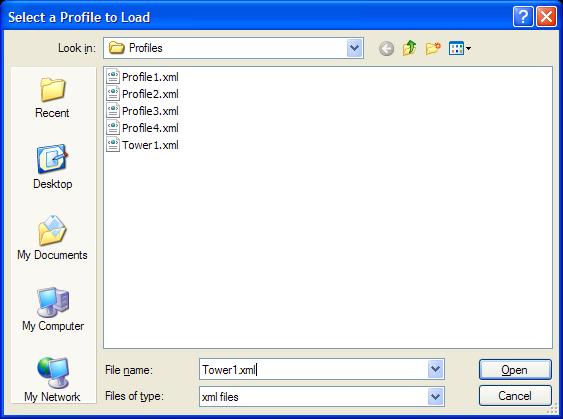 Operating Notes
Note: the file dialog should default to one of the new folders under the DDUtil Application Data folder.
Windows XP - C:\Documents and Settings\%username%\Application Data\DDUtil\Profiles\.
Vista/Win7 - C:\users\%username%\appdata\roaming\DDUtil\Profiles\.
It is recommended to store the profiles in this directory, but they can be stored in any directory you want, just remember where you put them.
Options
Configure Radio
Many times a Profile will require a change in radio configuration. The best way to accomplish this is to use a DDUtil Macro to send the required CAT commands to the radio. These macro commands can be defined and accessed from the Macro tab in DDUtil. See the following sections of this document for discussions on setting up and using Macro commands.
Settings Backup
It is suggested that a backup be made of basic settings used in every day operating. This file will prove very handy in the event your user.config file gets corrupted due to a program/PC crash or other such event.
Suggested name - SettingsBU.xml
Storage location - DDUtil Application Data folder.