CAT
From DDUtil
CAT Commands
History
In the beginning the CAT Command set for PowerSDR used the same commands as Kenwood TS-2000 radios. As the Flex radios developed the Kenwood command set no longer was adequate enough to cover the features of the Flex radios.
As you read through the CAT Command Dictionary you will notice that many commands have the same functionality. Such commands are FA/ZZFA, FB/ZZFB, etc. these commands can be used interchangeably, but it is recommended to use the ZZxx commands for continuity and consistency. All of the original Kenwood commands have been re-written with a ZZ equivalent, but there are many more ZZ commands to pick from.
Command Structure
PowerSDR CAT Commands
See this link to browse the PowerSDR CAT Command Reference Guide
CAT commands are a fixed structure of multiple elements. In these examples we are only going to be discuss the ZZ commands to keep the confusion down. The Kenwood commands can be used interchangably if they exist for a given function. This example we will use is ZZMA1; which will Mute the receiver when executed. Below is a disection of the command structure.
Preamble (ZZ)

ZZ precedes each CAT command. This tells the CAT Parser the following string of characters is a PowerSDR CAT Command.

Function Identifier (MA)

Follows the Preamble and is a two alpha character string that represents a specific function to be performed on the radio.

Parameter List (1)

The parameter list can be one or many characters depending on the function identifiers. See the following examples for differences in parameter list characters.

Terminator (;)

The terminator for all commands is a semicolon (;) and tells the CAT parser that this is the end of the command string, go ahead and execute the command.
ZZMA    Sets or reads the Mute (MUT) status
Get	ZZMA	;								
Set	ZZMA 	P1	;							
Answer	ZZMA	P1	;							
Notes	P1 = 0 for off, 1 for on.

ZZGL    Sets or reads the Noise Gate Threshold value
Get	ZZGL	;								
Set	ZZGL	P1	P1	P1	P1	;				
Answer	ZZGL	P1	P1	P1	P1	;				
Notes	P1 = -160 to 0 (- sign required except for 0000).


Note: For more information on setting up, programming and using CAT and DDUtil commands see the How To section.
DDUtil Macro Commands
The DDUtil macro are formed the same as the PowerSDR CAT commands but use a DD prefix in lieu of a ZZ prefix.
In the event an error is made composing the command structure a pop-up error window will appear describing the error. Note: this error catcher will not tell you if you use the wrong command or the wrong command parameters.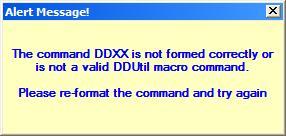 DDUtil Command Reference
Click the + next to any macro reference to make it expand.
Note: ALL commands require a semicolon (;) terminator.