Misc
From DDUtilV3
General
The Misc form contains radio condition and other general information. This form is required for all configurations and non-optional as a selection by the operator.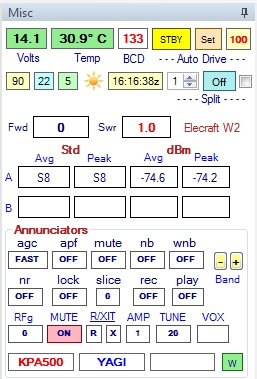 Controls
First (1st) Line

PA Volts
PA Temp
BCD data file value for the current band
Auto Drive Oper/Stby, Set & Power Level controls

Second (2nd) line

Space Weather conditions

Solar Flux Index
A Index
K Index
Space Weather Web Site (sun icon)

UTC (Zulu) clock
Transmitter Split controls

Split distance +/- kHz
Split On/Off push button

Third (3rd) line

Information / Warning display area

Transmit Inhibit (if selected on Setup form)
Power Limit exceeded (if selected on Setup form)
SWR Exceeded warning (if selected on Setup form)

Forth (4th) line

Forward Power and Swr readings, if a supported amplifier or watt meter is selected.

Lines 5 and 6

Radio S-Meter readings for Slice A & B

Annunciators Group (lines 7-10)

Radio functions. These controls are self explanatory, but hovering the cursor over a control will display a tool-tip describing control functionality.
Bottom line = user defined text messages set with the DDSI macro.